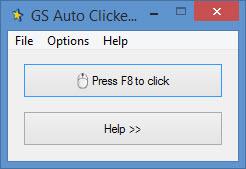 GS Auto Clicker is a useful tool available for Windows 10, 7, Vista and other 64-bit Systems that lets you automatically click the mouse buttons instead of using your hand. If your work process requires repetitive clicks then you can rely on GS Auto Clicker to save your time and give your fingers some rest.
With GS Auto Clicker, you can configure a HotKey on your Keyboard that will act as your mouse button. Instead of using your mouse button, you can simply configure a keyboard key and GS Auto Clicker will help you during the clicking process.
GS Auto Clicker has different options that are to be configured including selecting the HotKey, which mouse button to be used, (Right or Left), and also select single or double clicks. You can also set application to continue for a specific time interval or to click just a certain number of times, and you can adjust the interval between clicks in hours, minutes, seconds, or milliseconds.
GS Auto Clicker can also record sequences of the clicks that are made on different parts of screen and then you can use that sequence to be used over and over again as long as you want to.