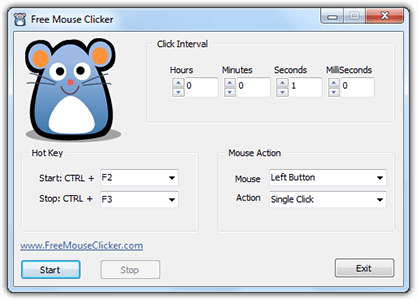 Free Mouse Clicker is a free software for Windows that lets you auto click on a specific spot on the screen.
You can set the mouse auto clicker interval for a specific time (hours, minutes, seconds or milliseconds) and then select single or double click on the left or right mouse buttons and then Free Mouse Clicker will do the rest for you. You can select the keyboard HotKeys to start and end the Auto Mouse Clicker's activity.
Just position your mouse cursor to the click location It will then take care of the things for you afterwards and you needn't click mouse constantly. You can press the start button or use the keyboard HotKeys to start the Auto Mouse Clicker. It is very helpful tool especially for people who play Minecraft or Roblox, instead of clicking constantly, they can use the Mouse Auto Clicker Program.
To let the users know that the Auto Mouse Clicker is working, a red visual indicator is displayed on the screen at the position where the mouse is clicking automatically.